About Flexi-Panel – Product Features
'Flexi-Panel' is a patented passive-grading device for size-grading live fish in the water. Flexi-Panel's lightweight flexible construction – and its unique design – allow for quick, accurate and stress free grading.
Once the grading operation is complete (when all the smaller fish have swum through the openings in the Flexi-Panel), you can either harvest the remaining larger fish directly from the sweep net or transfer them to another cage for harvesting at a later date.

With the appropriate size of aperture you can, of course, use the Flexi-Panel to size grade your fish at any stage of their growth. The clear benefit of this is that removal of the larger and more dominant fish allows the smaller fish to grow more quickly.

Popular sizes of Flexi-Panels for grading farmed salmon are 15m x 8m, 25m x 6m, and 20m x 10m, 25m x 12m, but there are almost no limitations to size. The individual apertures within the panel can also be made to any dimension, with increments of 1mm, the width determining the size of fish that can swim through (the largest Flexi-Panel made so far is 45mx22m).

Any size and any aperture can be made as each Flexi-Panel is constructed to the individual customer specifications.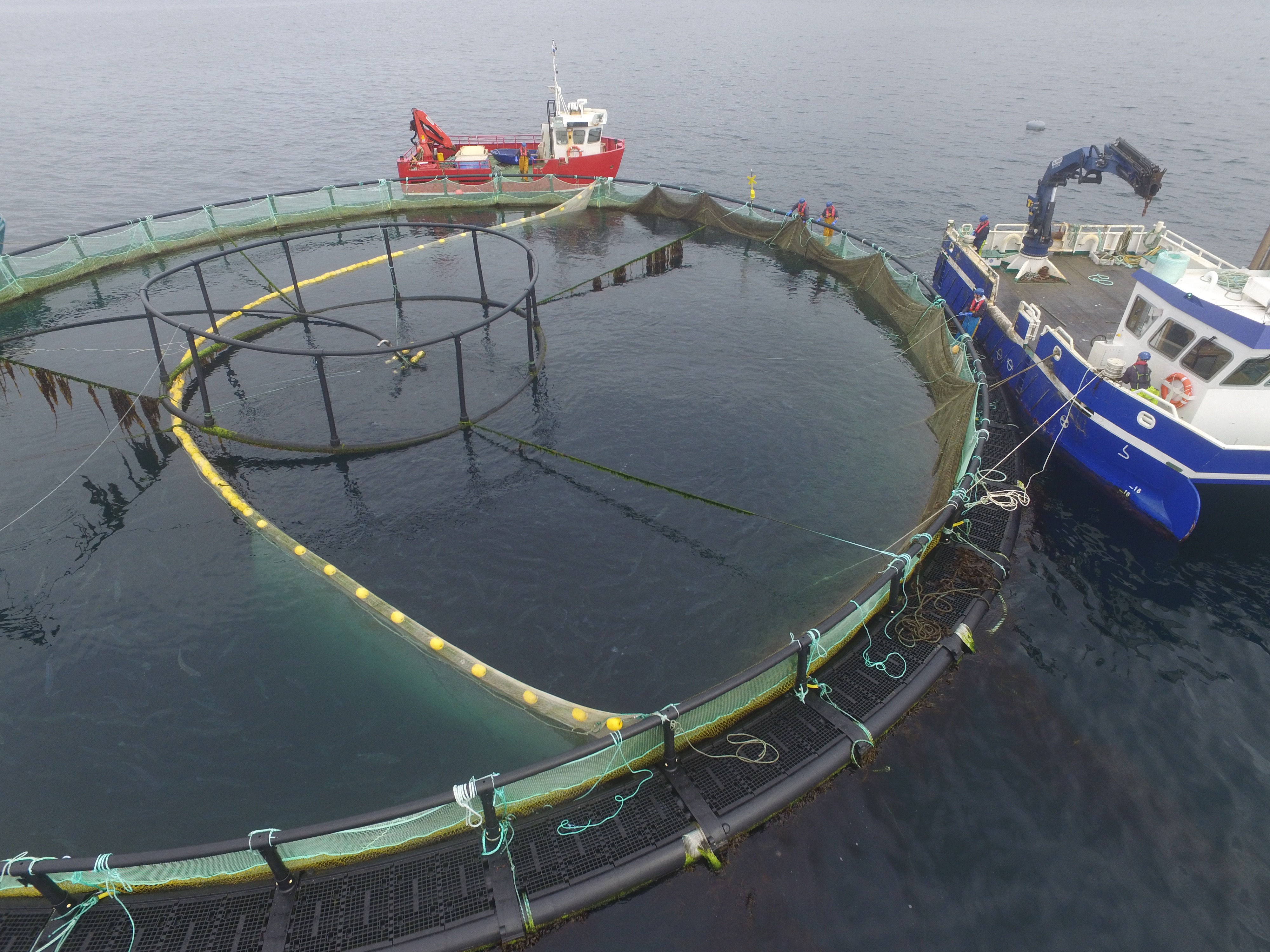 WHY FLEXI-PANEL?
Whilst the principle of passive grading is not new, the 'Flexi-Panel' represents a massive step forward in terms of technology. Other grading grids can offer only a restricted 'grading panel area' due to their weight and rigid construction. As well as tending to cause physical damage and scale loss to the fish, these rigid grids did not provide a large enough area to allow a quick and stress free method of grading large tonnages of fish.

Flexi-Panel's lightweight flexible construction overcomes all these previous drawbacks, allowing very large areas to be easily and safely handled. When the Flexi-Panel is in use the tension on the net keeps the individual apertures at their pre-determined dimensions, thereby allowing an accurate size grade. However, when the tension is removed from the panel it simply folds up in any direction, just like an ordinary net.

The strength, flexibility and lightweight nature of the Flexi-Panel comes from the materials used in its construction. Relatively short lengths of very rigid uPVC pipe are connected together using loops of Dyneema twine to form a series of individual apertures. (Dyneema was chosen as it is the strongest, most stable and abrasion resistant material available). The plastic pipes have a smooth surface and are able to rotate when the fish swim through, thereby eliminating physical damage and scale loss to the fish.

Large areas of Flexi-Panel can easily and safely be used, resulting in fast and stress-free grading of the fish.